Reasons to Love Grease 2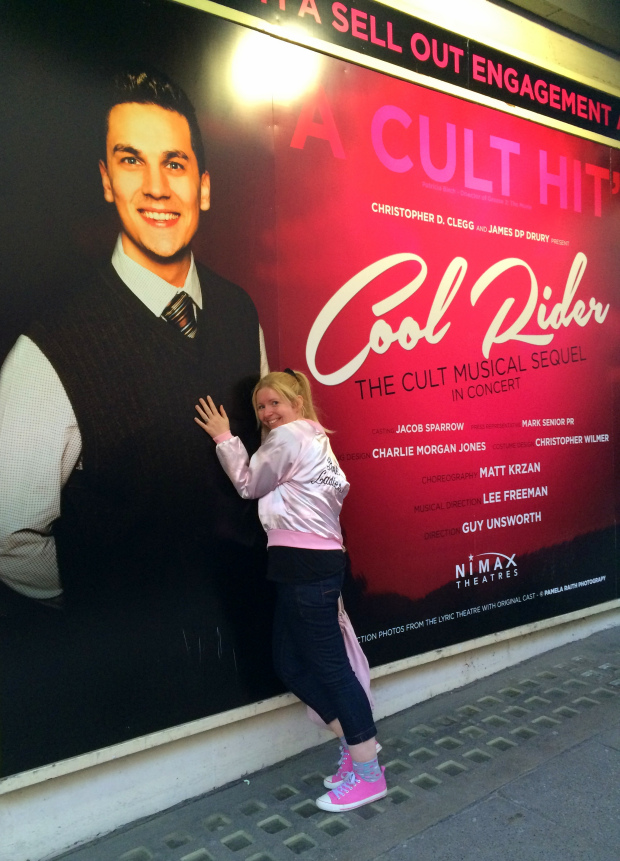 Last night I went to see Cool Rider LIVE for the second time. It was a packed-out press performance and provided even more of the pantomime-esque antics that made me fall in love with the show the first time round. There's something about being in a room with a bunch of people who understand something the rest of the world doesn't. Who know when to sing the "woah-oh-ohs" during the Who's That Guy number and who unquestionably worship Martin Meisner and his red hot accordion.  It's a unique experience and the cast of the show, whilst having a good time with the daftness of it all, obviously respect the fact that the film is cherished by fans even if it's not cherished my movie critics.
I'm frequently, and unfairly berated for my love of Grease 2 and the fact that I think Grease 2 > Grease. When people find out I've watched the film over 200 times they tend to back away slowly. Those who don't back away at first start to make their excuses when they discover I wrote a chapter about Grease 2 for my first non-fiction book. A lot of people think I'm joking but, to paraphrase Miss Stephanie Zinone, I've never been seriouser. Below are the top 5 things I love about Grease 2. I ensure you my love is sincere, fervent and without irony. This film totally deserves its cult status and the stage show is just as deserving of all the positive stuff that's being said about it across the Twitterverse.
TOP 5 REASONS TO LOVE GREASE 2
1. Michael Carrington (the lead character played by Maxwell Caulfield) uses a phrase book to converse with Americans even though he's English and I'm pretty sure he could get by without it.
2. Blanche. She's seemingly the school secretary (exact teaching roles within the school are a little hazy) and she plays the xylophone. What's not to love?
3. Feminism. Zinone may be living in the not-so-forward-looking 60s but she makes it clear that she kisses who she wants, when she wants. And she aint noone's trophy.
4. The fact that Sharon and Louis want to 'do It for Disneyland'.
5.  The coach's solution to an A-Bomb attack is for the American's to jump up, catch the bomb and throw it back to the Russians. It's a wonder the president never thought of that.
BONUS: Maxwell Caulfield wanted the film to be called Son of Grease. I would have LOVED to have been sitting in on that meeting. Personally I think Cool Rider LIVE have the right idea there. Cool Rider would have been a much better title.
Thanks to my littlest sister Sheena for taking the photo of me pressed against the promotional billboard. And for accompanying me to last night's show.