New Empress Magazine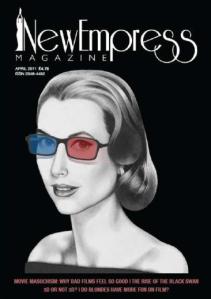 New Empress Magazine is an independent quarterly magazine about cinema conceived and edited by yours truly. Every quarter a group of very talented individuals help me deliver the best reviews, commentary and film flashbacks to our ravenous readership. I also look after a team of visionary illustrators who work very hard to make each issue look beautiful.
The magazine came about, very simply, because I'm obsessed with cinema and its history but couldn't really find a magazine I enjoyed reading. So I decided to make one. So far the reception has been very positive: we are stocked by the BFI, Everyman Cinemas, Popupscreens events and a range of newsagents in central London.
The first issue went on sale in April 2011 and issue two went on sale in July. The third issue is due out at the end of September. To-date the magazine has examined important cinema-related questions such as whether 3D technology is really all that, how one might predict the Oscar results and why Hollywood are so obsessed with remakes at the moment. Issue 2 is our Golden Ticket Edition and promises to offer more editorial, more illustration, more information and more fun than issue one. Visit the New Empress Magazine website to find out more.
Business enquiries regarding the magazine should be directed to me at: [email protected]