Strand Art Deco Tour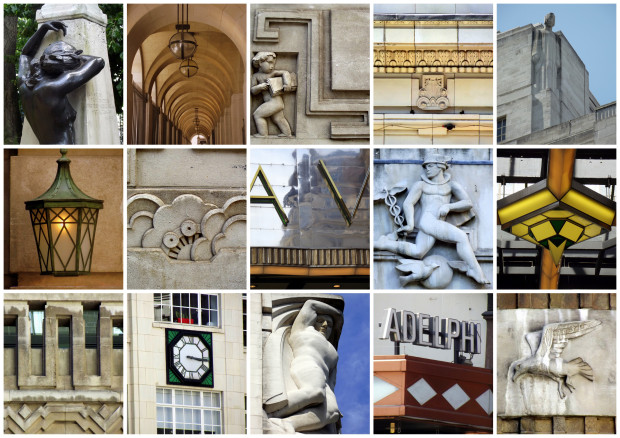 Yesterday I had the pleasure of attending Yannick Pucci's Art Deco in the Strand walking tour. I'd previously enjoyed Yannick's Art Deco in Bloomsbury tour and the Strand tour followed the same friendly but informative format. The examples of art deco detailing in this area are just wonderful and it was refreshing to explore a much-visited area of the city more closely; we are all so busy in London getting to where we are going that we rarely stop to observe the magnificent detail that is all around us. This tour offered plenty of opportunity to stop, observe and discuss both the buildings and the history of the Strand area.
I'd often wondered about many of the buildings Yannick includes on his tour and I came away from the event much the wiser (at least in terms of art deco architecture and local history; he's knowledgeable but he's not a miracle-worker and being wise has never really been my forte). The collage above illustrates just a few of the architectural highlights from the tour. Just like the Bloomsbury tour, I was pleasantly surprised that the walk covers both iconic structures and hidden gems of the art deco variety. There is a good mix on offer here and Yannick is always willing to answer questions from attendees, I can't recommend it highly enough.