Paris Je T'aime: My day and night in the city of lights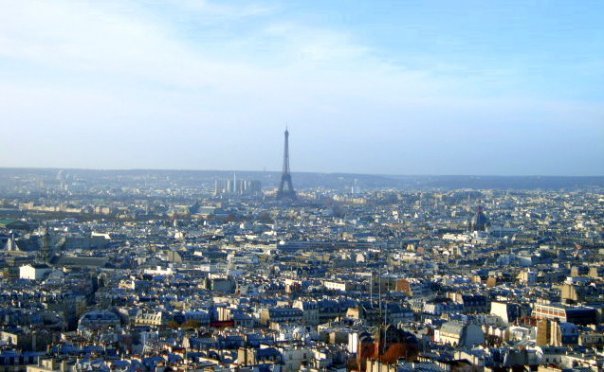 My alarm sounded at 4:15am. The alarm on my phone plays a very bizarre, somewhat discordant song that sounds as though it was once the theme tune to a tragic 1980's game show that was axed before it ever began. Sadly because I chose a contract mobile phone that is more intelligent than I am, I don't know how to change it to something less caustic to the ear. The plus side is, it makes you get out of bed to turn the damn thing off, which when you're due to be at King's Cross for the first train in to Paris is a very good thing.
After getting dressed in the dark, and leaving my flat looking like I had, and enduring a thirty minute tube journey with a strange assortment of North London characters (the odd breed who get up before sunrise on a regular basis) I arrived at St Pancras. The lighting there is not kind at the best of times, but with my tiredness and bleariness its bright bulbs were enough to make my eyes water and make my mind wonder what I was doing out of bed so early. Thankfully my travelling companion had had the foresight to buy me a small cuddly toy as a belated birthday present. I perked up a bit after that.
The unique thrill of chunneling my way to the continent was sadly lost on me as I used the train journey as an opportunity to take a much needed power nap. I was however greeted with a beautiful French dawn when I did eventually prise my eyes open to see the vast wintery landscape collaged beautifully through the window.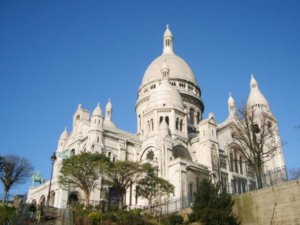 Once in Paris we headed straight to Montmatre. Domicile de Amelie Poulin and the Sacre-Coeur: a Roman Catholic church dedicated as the name would suggest to the sacred heart of the saviour. Now I'm not exactly big on Christianity but as a piece of architecture the Sacre-Coeur is breathtaking – for me quite literally. We decided to visit the very top of the structure and unfortunately for me this meant climbing a series of very tight and winding staircases. I think I had to stop three times before we reached the top to catch my breath, but in my defence I hadn't had any breakfast and I work in an office job where I never leave my seat all day. Of course I'm out of shape.
This said, the rigorous work out and high anxiety were well worth the amazing perspective when we got to the top. We marvelled at the beauty of the early morning Parisian cityscape, at the buildings palid in a sun that was still stretching from it's sleep and at the Eifel Tower which stood proudly in the distance piercing a sky of the clearest blue.
The descent was easier on my lungs but considerably more dizzying than going up and I think my friend sensed that if we didn't have breakfast soon I was likely to pass out. We chose a table at a small cafe and were greeted by a waiter who didn't look all that French.
"You want eggs" he said, as a statement rather than a question.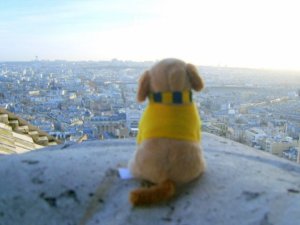 "Croissants?" I ventured.
"Croissants finished," he replied. "You want eggs."
We had eggs. To his credit, they were very nice eggs and I soon managed to get over the disappointment that the waiter didn't seem to have a penchant for stripy T shirts or wearing berets at a jaunty angle (I think I watched Eurotrip one too many times – Scotty doesn't know!).
Sadly for my friend having breakfast resulted in me slipping into a rather hyperactive mood fuelled by my sudden sense of being overwhelmed by the romanticism of Paris…and admittedly a little bit of sleep deprivation left over from the night before. From our breakfast table we roamed the city from end to end and I never missed a beat. I just couldn't help myself. Everytime bells rang I insisted on wailing "the bells, the bells" in my best Quasimodo voice. Everytime we passed a McDonalds I would reconstruct the car scene from Pulp Fiction declaring the words "Royale with Cheese" with enough tongue-in-cheek vigour to make Samuel L Jackson himself very proud. And everytime we passed anything of iconic status I would insist on taking pictures of my new cuddly toy next to said landmark a la Amelie and the gnome.
This caused a great deal of amusement and we could no doubt be heard cackling from far away at Pont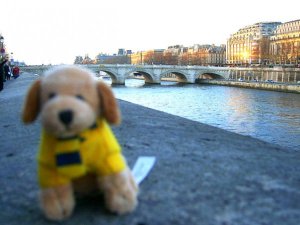 Neuf, The Notre Dame and The Eifel Tower. Other tourists weren't quite sure about my affinity for toy photography overlooking the Seine and passed by looking somewhat bemused before letting a little snigger slip out once they felt they had reached a safe enough distance. What can I say? Regardless of where I go I always like to leave a lasting impression. Besides, people should know better than to let me loose in a strange city equipped with a cuddly toy and a digital camera. It's just asking for trouble.