A day in the life of a Windmill Hunter
If people such as Mr Majeika (Oh Hamish!), Emu and Jonathan Creek teach us anything it's that deep down everybody wants to live in a windmill, or at the very least think windmills are pretty cool. I am no exception to this rule and openly admit to finding the swishing of symmetrical sails strangely seductive. But alas! With the invention of steam mills and given that most windmills were looted for their iron innards during WW2 they are a truly endangered species. Thus, if one wishes to see one of these truly beautiful beings one must hunt them out. Consequently I embarked on an epic quest. One that spanned the entire length of the District Line, a replacement bus service and Zone 6 of the London overground. One that would test my stamina and my geographical awareness  I bring you my day in the life of a windmill hunter…
13:21 I depart on the District Line towards Wimbledon. Whilst sitting on the tube I notice a pregnant tourist wearing a badge with the London Underground logo on it. It has the slogan 'Baby on Board' punched across it too. This makes me smile and I take it as a good omen that the hunt is going to be a success.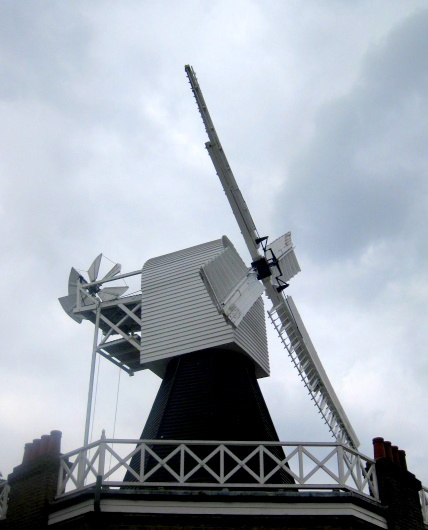 14:07 I arrive at Wimbledon station and purchase an all-important bottle of Snapple. The wisdom 'neath the cap reads: In the summer walnuts get a tan. Deeply profound but what does it mean?
14:56 After meandering in the wrong direction for what seems like forever I correct my course and bubble with excitement as I notice the first signpost for 'Wimbledon Windmill Museum.'
15:20 I find 'Windmill Road.' A sure sign that I'm getting close. I begin singing my own special medly of all the songs from 'The Man of La Mancha'. It's been some 13 years since I played peasant #4 in the school production but I remember a surprisingly high percentage of the lyrics and simply fill in any lyrical gaps in my knowledge with the word 'blank'. Eventually I end up sounding like I'm singing the theme tune to 'Blankety Blank' (from the Les Dawson days).
15: 27 I catch my first glimpse of the white sails over the tree tops. I try to keep my breathing steady, but it's very, very hard.
15.32 I pay a very reasonable £2 entry fee to the mill and museum.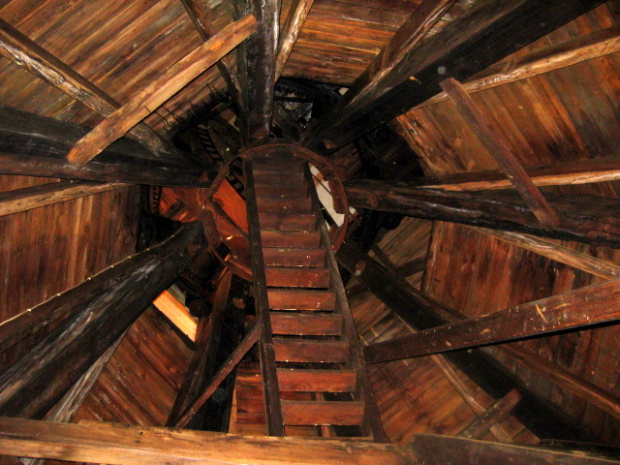 15:43 By this point I've made my way to the highest point visitors can climb to and take the moment to tweet in a derogatory fashion about Emu. I have a quick look around to check that Grotbags isn't hiding out in one of the many nooks and just about resist the urge to skip around in circles chanting 'Oh there's somebody at the door'. (I didn't do the skipping. Definitely not. That would make me a crazy person).
15:57 As I climb back down the step ladder from the top floor several of the other visitors stop looking at scythes and bundles  of corn to look at me. I suddenly realise that in my tutu skirt and trainers i probably look like i've escaped from a deleted scene from Who's That Girl? I navigate the remainder of the step ladder as gracefully as possible and skulk off into one of the other rooms.
16:10 Bought a few token souvenirs from the gift shop and then photographed the mill from every possible angle.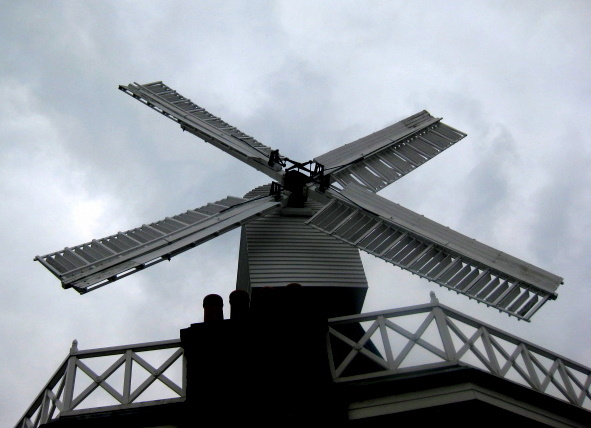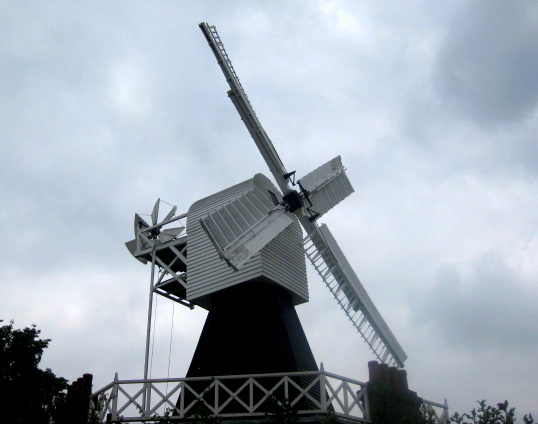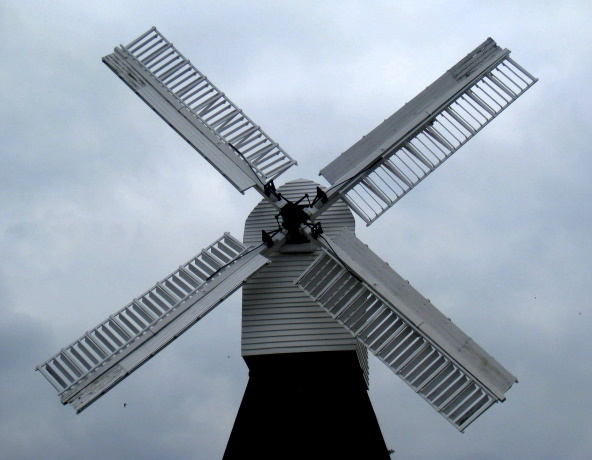 17:00 I arrive at Brixton Station. I walk beyond the razzle dazzle of the Ritzy cinema, beyond Henry Tate's chiseled gaze to St Saviour's Street. I pass an old man watering the flower beds in his front garden and contemplate asking him directions to the mill. Then I decide that this would most definitely be cheating.
17:15 I pass the graffitti haze of a pub called 'The Windmill.' It's the kind of pub that I would have thought was really cool in my teenage years. In my sober(ish) late-twenties, however, I think it is nothing short of unsavoury and the kind of place you'd only go if you fancied being stabbed. The name tells me my prey is near.
17:17 I turn around and I see sails spoking into the moody sky. Clever girl. She's captive in a greying, grimy urban prison but that makes her no less of a beauty.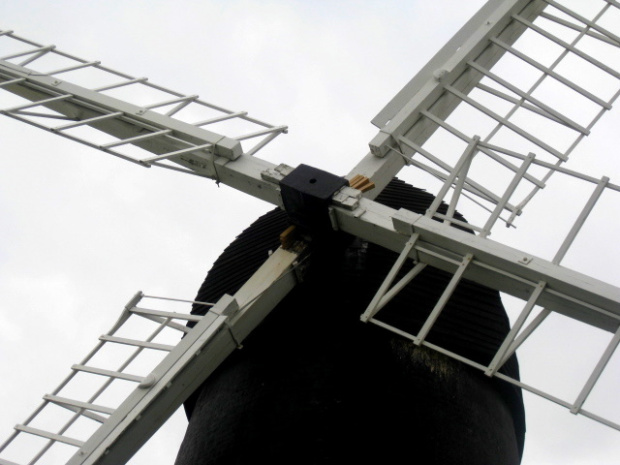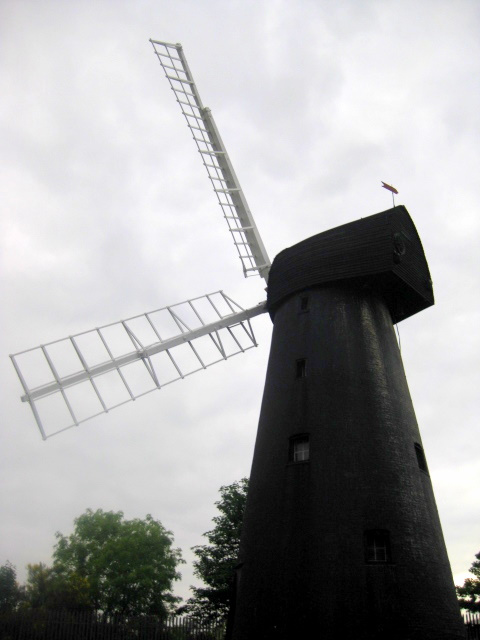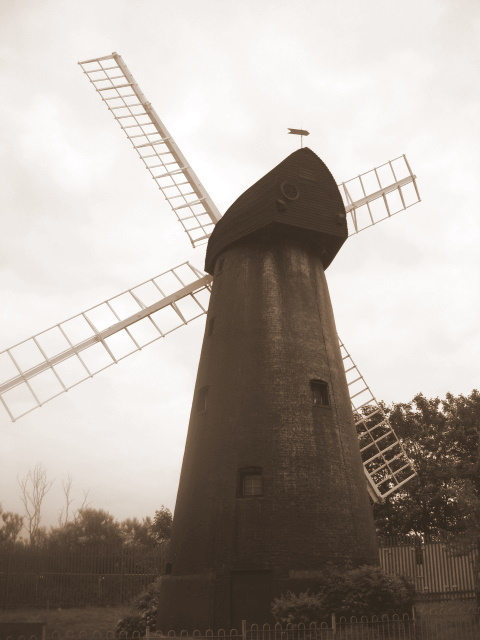 18:03 Back on the tube I realise I am going to have to get a replacement bus service and the overground to Zone 6 to reach windmill number 3. This is a pain in the bajingo but I committed to hunt down 3 windmills in a day and hunt down 3 windmills before nightfall, I must.
19:07 I finish my Lulu Dark book mid-replacement-bus-journey. I notice some woman eating from a Wasabi carton and simultaneously judging me for reading what is very obviously a children's book when I am so very obviously an adult. More about this in my next article but for the record I've never so much as sniffed the pages of a Harry Potter book.
20:05 I make it off the overground and realise daylight is wearing thin. I need to find my final windmill before the sun sets!
20:16 There she is. And like the third-born daughter in any half-decent fairytale she is the most handsome of them all. I'm not the only one photographing her either. 2 other photographers, with way better cameras than me, are capturing her breathless beauty.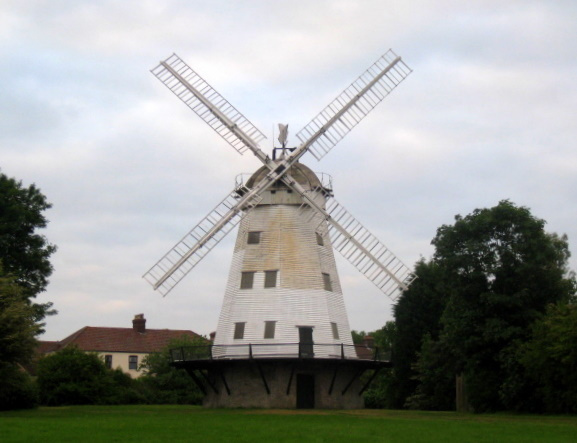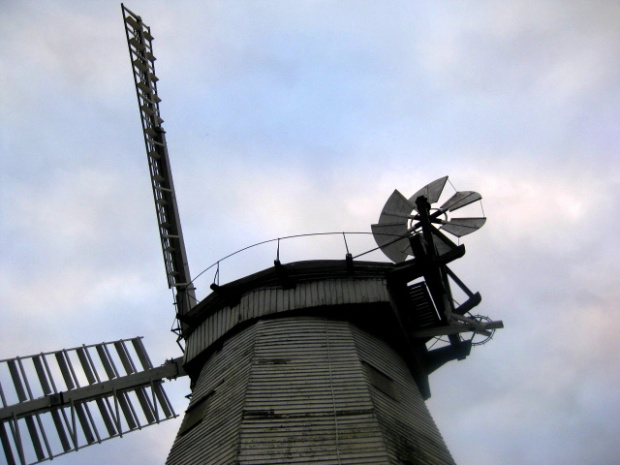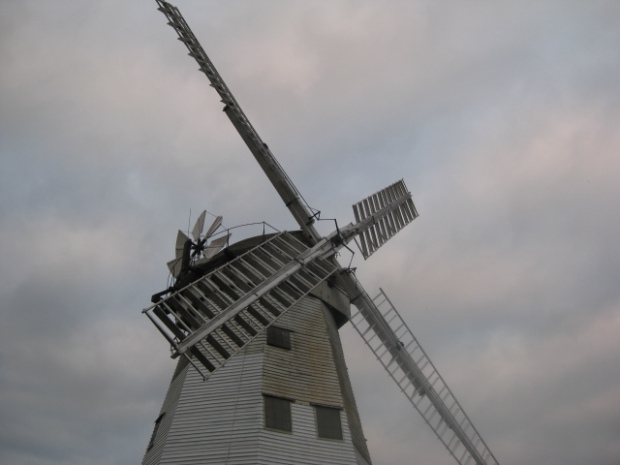 20:33 Four teenage lads who barely look old enough to drive pass by in a modified Ford Ka hooting their horn at me as I walk back to Upminster station.  I smile wryly. They have no idea who they're dealing with. I am I Helenography: Windmill Hunter.