The Girl on the Bridge: Lendal Bridge, York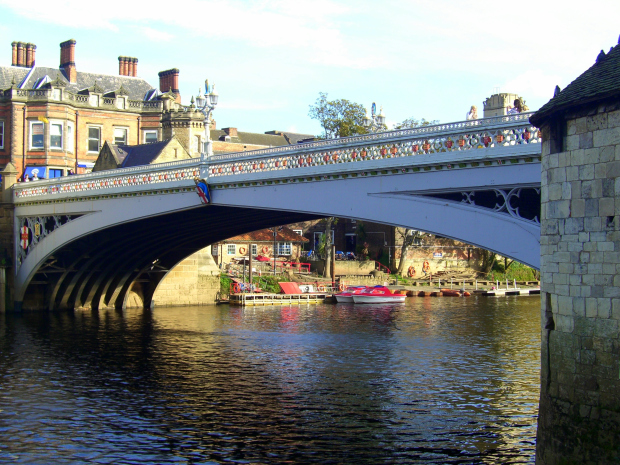 Thomas Page designed this bridge. He was a 19th century civil engineer with a penchant for Gothic architecture and in addition to designing the Lendal and Skeldergate bridges of York he also worked on Westminster bridge and the original Chelsea bridge in London. Lendal Bridge replaced a ferry service and a less stable bridge, one that killed 5 men when it collapsed, in 1863 and is book-ended by two beautiful stone towers from the 14th century. The bridge itself may not be that old but the medieval towers, originally used to control river traffic, and documented evidence of the prior ferry service suggests that this stretch of the river has been an important crossing point for hundreds of years. When it first opened there was a toll for crossing the bridge in order to pay for its construction but York City Council have finally missed a trick as the last toll was charged back in 1894 (take a look at the parking rates for York city centre and you'll swiftly understand what I mean by this).
In the 21st century Lendal Bridge acts as a courseway between the railway station and the town. It connects tourists to coffee shops (mostly the supremely over-priced Betty's), students to campuses and shabby-chic bars and locals to the train station so that they can escape the tourists and students by eloping to the heady new horizons of Leeds, Manchester and Newcastle. To the community I suppose more than anything this bridge means trade but to me this bridge symbolises freedom, quietude and good old-fashioned Yorkshire pride.
Growing up in the small market town of Thirsk, some 20 miles outside York city centre, Saturday trips out to York with my friends were an exhiliarating taste of independence. As soon as we passed over Lendal I felt far away from the narrow-minded gossips and doomed wannabe-teen-mums of my home town, and, as you may be able to tell from my tone, this made me very happy. Lendal transported me to new and exciting places such as Cappacino's, a cafe that did awesome milkshakes, and the Warner Brothers cinema. Well, actually we had to get another bus out of town to get to the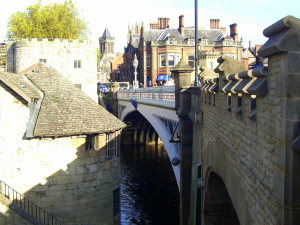 Warner Brothers cinema at Clifton Moor but we couldn't have got on the bus if we hadn't passed over Lendal Bridge. Lendal Bridge is the reason that all of my pocket money was spent on rough records cut by practically unknown Mancunian indie bands of the mid-1990s as it (cripplingly) connected me to HMV. It's difficult to tell, in retrospect, whether that is a good or a bad thing.
Later in life I sat by this bridge to write my journal. When I was weary from washing dishes and mopping floors just so I could study creative writing in the hopes of one day becoming "a real writer" I would find shelter near this bridge and watch the river flow by as I wrote. It was quiet; it was solace; it was a parenthesis from ignorant customers, pushy bosses and cryptic lecturers. The many tourist boats would sail by and I would watch them watching me and then scribble in my notebook to make them think I was writing about them. Always mess with their minds.
All that time, however, that I was in refuge at the base of that bridge I didn't know one of the most fascinating facts about it. I only discovered this little nugget of kitsch when I started my research for this article, but it was one of the very first things to come up: the bridge was used in some key scenes of the Brookside spin-off Damon and Debbie. Apparently way back in 1987 Damon and Debbie, a soap-bubble 3-parter, rocked the soap opera world by killing off one of Brookside's most popular and long-running characters: Damon Grant. History, beauty and a so-bad-it's-good pop culture reference. What more could a girl want in a bridge?