My Notes on Berlin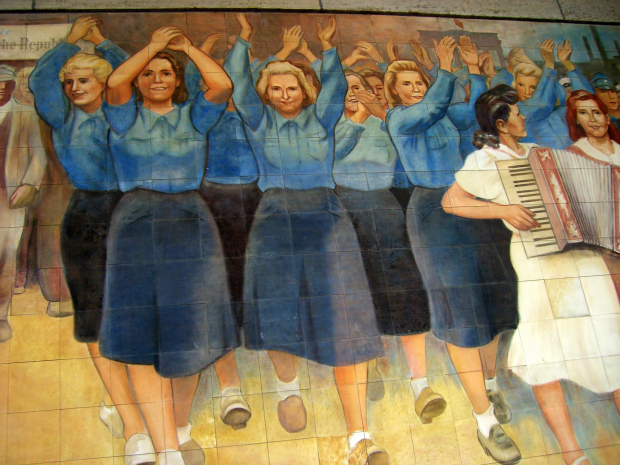 As a city Berlin, particularly former East Berlin, is a slate wiped clean. It's difficult to believe that beneath its smooth, reconstructed surface there is a rather raw and recent history of subjection, division and civil conflict. From the caved-in and concreted-over Fuhrerbunker, in which Adolf and Eva Hitler famously committed double suicide just 40 hours after they had exchanged wedding vows, to the left-over, forboding, communist buildings that have been transformed into municipal hubs to serve and support the public; there is little, but still some, remaining evidence of the prior gravity that once weighed so heavily on Berlin's disjointed shoulders. Not least the 2711 concrete slabs arranged by architect Peter Eisenman as a memorial to the Holocaust.
When I first looked upon the memorial I was very unsure about it. It seemed a little bit too minimal. Once I began walking around the blocks however I came to understand what Eisenman had created a little bit better. It is, in effect, a blank canvas that allows you to project your own thoughts and feelings onto it rather than dictating what you should be thinking and feeling. The labyrinthine nature of the structure allows you to lose yourself in reflection about what this city and indeed Europe has endured in the last 60 years. Unlike the regimes that have dominated Germany and divided Berlin this homage is not oppressive, even in spite of its concrete base, but a modest and fitting reminder of what has gone before.
The image above is part of a mural located a five minute walk away from Checkpoint Charlie in the  Mitte district. There are various segments to the mural all of which display the communist projection of how life was living in East Berlin during the Cold War. Apparently there was a lot of clapping for communism – not wholly convincing given the number of East German citizens that tried to flee to West Germany, over 100 of them dying at the boundary of the Berlin Wall.
After all of its former grief Berlin could be easily forgiven for feeling sorry for itself but quite the opposite is true. The people are open and friendly. The city, which is built for double the amount of people that actually live there, is spacious, relatively clean and free from the madding crowds (that is unless you're queueing to get into the Reichstag) you find in other large cities. It is developing its own personality, culture and sub-culture. Berlin officials spend a great deal of their annual budget on cleaning the city streets of graffiti but have still failed to keep ever-innovative and flourishing street artists from making their mark. One of the highlights of my time in Berlin was taking a tour of the local street art which offered a certain sense of just how free-thinking and expressive Berlin really is even though it doesn't get anywhere near the same amount of press as New York, Paris or London.
There're two last things I want to mention and, at the risk of making this sound like a bad episode of Sesame Street, they both begin with the letter A: architecture and Ampleman. Berlin boasts a pretty heady mish-mash of embellished domes and pillars in the Bebel Platz, staunch constructions of the Cold War period in the vicinity of Karl-Marx-Allee and aliens-have-landed-esque post-modernism with the TV Tower in Alexander Platz. I was truly struck by the range of architecture I found there and how pertinently it reflected the city's history. Ampleman was a slightly less profound and a slightly more humorous cultural discovery. It is the name given to the green man who graces the crossing signs in Berlin. He differs from other green men across the world because he wears a hat and because he looks either like he's doing the robot or that he has a large erection. My friends and I thought it was nothing more than yet another cake-fuelled, giddy aside on our part but actually Ampleman is something of an institution and has his own shop. I could have spent a lot of money there but managed to restrain myself to a set of rub-on Ampleman tattoos for my boyfriend. I'm sure you'll agree it's an essential accessory for any right-minded individual.